Welcome to the Yukon Quest for Schools and Students

Additional educational resources packages are available. Contact Cathi Dunham for more information.
Here are a couple of pictures of our 2012 Quest Wall. (Click on the photo to see a larger image.)

Check Recent Discussions for updated postings.
To get you started on your own Quest, we have provided some Reading, Writing and Math examples. Your input will help make this site alive and active.
1. Reading Quest - student teams race the mushers along the trail to the finish. This activity is designed to help teachers set up a Reading Quest within their school or in their own classroom.
2. Math Quest -students create and provide solutions for their own "Quest" math problems that teachers post to the site.

3. Weather Tracking Activity - students graph the weather for a race checkpoint.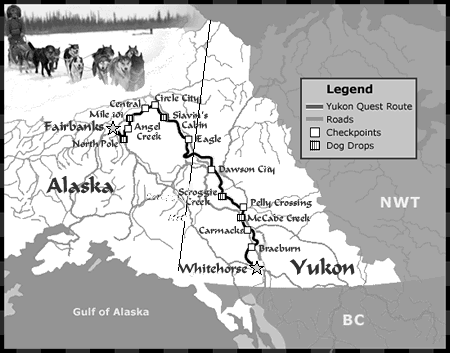 Work on this site is licensed under a Creative Commons Attribution-Noncommercial-Share Alike 2.5 Canada License.