Flat Stanley and the Yukon Quest 2009

Flat Stanley goes to the Yukon Quest!
For the last several years, teacher Linda Hut from Edmonton, has joined the Yukon Quest education team by sending her class's Flat Stanley on a Yukon Adventure.
The 2009 trip took Stanley to the Vet Check, Meet the Mushers, to the Start Line and my classroom display. We hope you enjoy his trip with these pictures!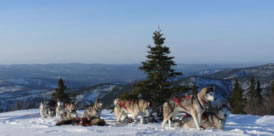 Discussion
More Quest Headlines