Topographical Map - Whitehorse to Fairbanks

Yukon College Instructor Jim Gilpin is putting the Yukon Quest trail on satellite maps. This is what he has done so far. Now he's hoping trail volunteers with GPS equipment will help him draw an even more detailed map of the 1,600 kilometre trail. Geomatics Yukon provided the satellite images.
(The red line is the highway from Whitehorse to Dawson. The blue line is the Quest trail.)
Click on a section of the trail to see more details.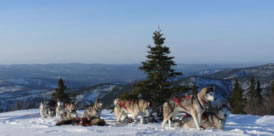 Discussion
More Quest Headlines